Overview
Holders of foreign driving licences, who reside in Botswana, may use their foreign driving licence for a maximum of 90 calendar days, after which point they must apply for the Botswana driving licence.  Alternatively, foreigners who hold valid international driving permits (IDP) and international driving licences are allowed to drive without converting.
Holders of driving licences issued within SADC states are exempted, however they have an option to convert if they desire to do so.
Who is eligible?
Citizens and non-Citizens
18 years and above.
The holder of a valid foreign driving licence.
How do I get this service?
In order to access this service, applicants must follow the following steps.
Download and complete the Botswana Driving Licence Application form (DL1). Please note that the application form is also available at the Enquiries Desk at any of the offices of the Department of Road Transport and Safety​.​ 
Take completed form along with supporting documents (listed below) to eye screening office and undergo eye screening.
Submit documents, including eye test results to the Registration and licensing officer.  Note that eye test results are only valid for 1 year.  In the case of applicants with eyesight challenges, the Registration and licensing officer would refer them to be examined by an external eye specialist for further testing.  Only after the external eye specialist recommends that the driving licence application process be continued should the applicants return to the Registration and Licensing Officer with the results and recommendations.
Take results (only valid for 1 year) and supporting documents (listed below) to the Licensing officer at the Registration and licensing Office.
Pay required fee when instructed, then have photo taken. 
After the photo is taken, sign on the signature pad, and collect printed driving licence.
What supporting documents are required?
Original and certified copy of the foreign driving licence (copy must be certified by the embassy or consulate that represents the particular foreign country or any commissioner of oaths in Botswana)
Letter from issuing authority or representative embassy verifying authenticity of the foreign driving licence
Certified copy of valid National Identify card (Omang)
Certified copy of Passport
Certified copy of Exemption certificate or Residence and Work permit
Certified copy of work permit (non-citizens)
Certified copy of study permit (foreign students)
Certified copy of the national identification card / Omang of the guardian (foreign students)
Refugee Identification Card (Refugees)
How long will this service take?
Where can I obtain this service?
Department of Road Transport and Safety Offices across the country.Opening hours are from 07:30 to 16:30, Monday to Friday, except public holidays.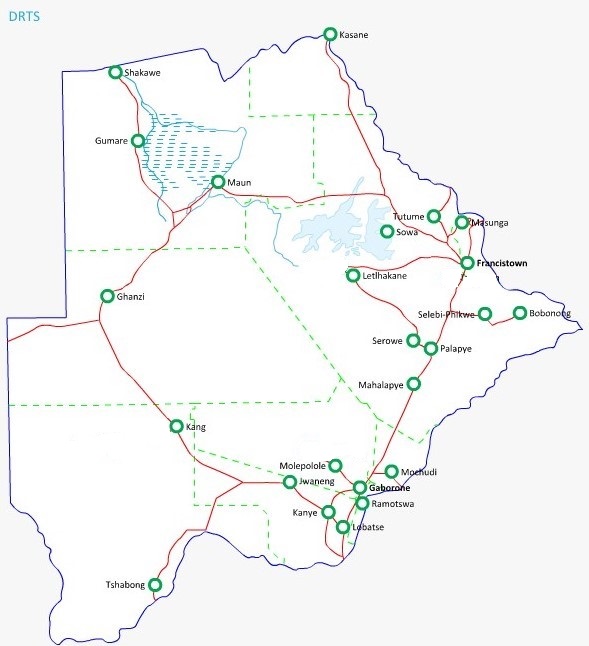 Where can I get more information on this Service
Department of Road Transport and Safety
Tshomarelo House
Botswana Savings Bank Building
Private Bag 0054 
Gaborone